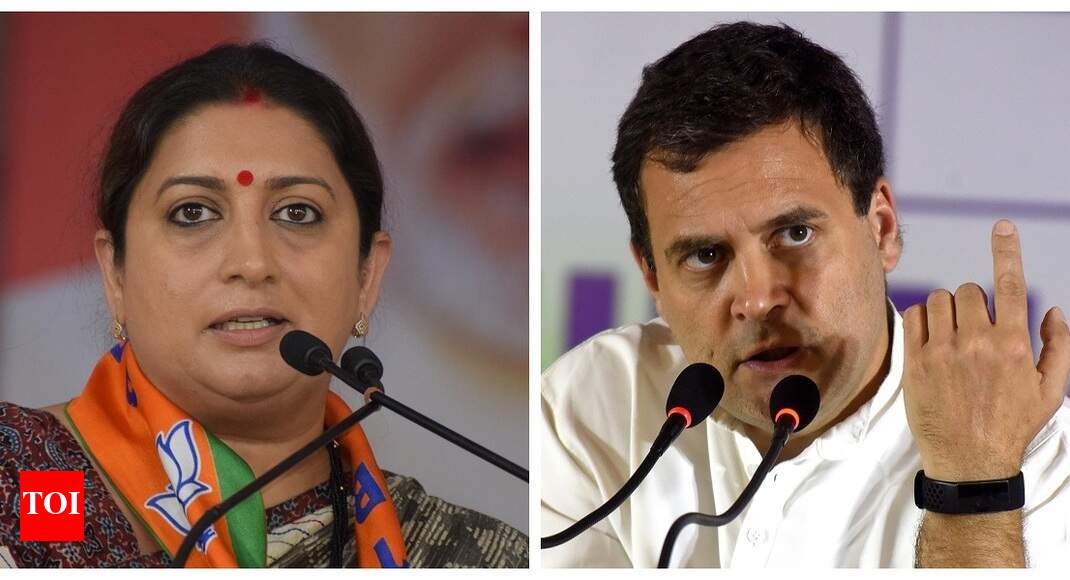 Amethi has been a Congress stronghold since decades. Before Rahul Gandhi, his father too contested from Amethi. Pics of Rahul Gandhi peeping into a hut in his constituency, a la Rajiv Gandhi is turning out to be major embarrassment for the Congress. It signifies the development or lack thereof in Amethi, despite being the seat which sends the INC party chiefs to the parliament. The lack of development is shocking, compared to the constituencies or political burroughs of other politicians.
Rahul Gandhi has lately been in the news for contesting the upcoming elections from two places - Amethi in UP & Wayanad in Kerala. But his detractors claim that there is more to it than what meets the eye. People claim that Smriti Irani who put up a spirited fight last time around & gave RaGa a scare, may actually end up trouncing RaGa in Amethi this time around. We analyze the various reasons why the dynast is forced to contest the elections from two constituencies from two seats in the upcoming elections.
Why Politicians Are Partial To Their Constituencies
PM Modi has often been accused of being partial to home state of Gujarat. Bullet Train project, Sardar Statue & several other development projects which were announced will be hugely beneficial to Gujarat. It isn't surprising that PM Modi has a demigod status in Gujarat. opinion polls are predicting 26 out of 26 seats for NDA in the upcoming elections. The story holds true for Sharad Pawar as well. While Sharad Pawar is often criticized for his involvement in several scams & indulging in rampant corruption, he left no stone unturned to develop his constituency - Baramati. While rest of Maharashtra had irregular electricity, bad roads, water shortage, bad infra, Baramati had no such issues. The same holds true for many other big shot politicians. There is a major reason why politicians do this.
Politicians are partial to their constituencies because it acts an insurance. If they face rough weather in the political arena, they can go back to the comfort of their constituencies to recoup & regain their strength. Take the case of ex-PM Deve Gowda. Although he is a spent force on the national level, he continues to have a say in state level politics thanks to his largesse to his constituency of Hassan. When he was the PM, Deve Gowda shifted the Bangalore international airport venue to a place near Hassan. As expected the land prices in Hassan shot up & the farmers became millionaires overnight. That explains Mr. Deve Gowda's party winning 40 seats & his son becoming CM despite rest of Karnataka largely voting for BJP during the assembly elections.
But such is the level of arrogance of RaGa & other party members that they believed they can get by without getting any work done. After all in the previous elections, when they realized Smriti Irani was turning out to be a problem, a phone call to Mulayam Singh Yadav is supposed to have helped the young Gandhi scion sail through. Mulayam is rumored to be in awe of the Gandhis. So when he received the call, he was more than happy to oblige. But instead of learning his lesson, RaGa continued to ignore Amethi.
The Yogi Factor
While it is depressing to be poor. What is really depressing is to be poor when all your neighbours are getting richer. That is what is happening under CM Yogi Adityanath. While several parts of UP are seeing rapid development under CM Yogi, Amethi continues to suffer under Congress rule.
The people of Amethi are seeing the development in other constituencies & are feeling left out. While during the previous regimes all of UP was one lawless, BIMARU state, most parts of UP is now seeing a transformation. This isn't going down well with people staying in Amethi. They are frustrated with RaGa & his failures to keep promises. While Amethi citizens used to take pride that they elect the PM to parliament, they couldn't care less about RaGa. They want the good infra, facilities that the other citizens of UP are enjoying. They are probably confident that with PM Modi being around, RaGa doesn't stand a chance at becoming PM anyway!
Modi-Smriti
While one hand Yogi Adityananth is developing UP,
PM Modi
& the BJP candidate from Amethi - Smriti Irani too have done a lot for Amethi. The recent inaugration of the AK-203 manufacturing facility by the PM is one such example. PM Modi has reportedly launched
17 development projects
worth 538 crores in Amethi. Smriti Irani on other hand has left no stone unturned to develop Amethi. She is reportedly very accessible to the people of Amethi & has the support of women.
RaGa has been calling Modi a liar for twisting facts. But the people of Amethi are now not as foolish as they used to be & can see through the lies of RaGa. Union Minister Piyush Goyal too has declared that BJP will definitely win this time around.
Congress workers too must have sensed the situation on the ground. It was then probably decided that it would be safer for RaGa to contest from two seats instead of one. They probably still think that they have a shot at winning Amethi, as SP-BSP combine has decided to stay away from Amethi as a goodwill gesture.
Wayanad
Wayanad is relatively a very safe bet for RaGa. BJP has limited presence in Kerala. Hindus make up only 43% of the population in Wayanad. While the Sabarimala issue will polarize voters & end up helping BJP increase their tally this time around, they are unlikely to win more than 5 seats out of the 16 seats in Kerala. Wayanad with its high % of minority voters is a very safe bet for RaGa.
The BJP won 0 seats last time in Kerala, despite the Modi wave. But it is rumored that it will the INC, which will stand to gain from the Sabarimala issues. While the RSS-BJP have been working very hard to make inroads in Kerala, it will take some more time before Kerala turns saffron. it won't be easy, especially considering the high % of minority voters in the state.
While RaGa should comfortably win Wayanad, whether he is able to save face & increase his tally from 44 seats remains to be seen.